Colonel James H. Leach -
"The sweetest man who ever lived,"
Marion Leach, 2007
Colonel James H. Leach was born in Houston, TX on April 7, 1922. He began US Army service when he joined the Texas National Guard on June 19, 1938 at the age of 16.
When Gen. Patton began his summer dash across France in 1944, Jimmie Leach was commander of Company B, 37th Tank Battalion, 4th Armored Division, serving under the legendary Lt. Col Creighton Abrams. He had trained for four years as a tanker. He was uniquely prepared.
Jimmie was wounded five times in Europe, received the Distinguished Service Cross for his heroism at Bigonville on Dec 24, 1944 and three days later he captured and guarded the entry of the 37th into Bastogne in relief of the 101st Airborne.
After WWII, Jimmie served in Korea on the island of Cheju, moderating the angry wrath among island natives, off-island Koreans and returning Koreans who had served in the hated Japanese Army.
He married Marion Heirs Floyd in 1951 and spent four years in Germany guarding the Fulda Pass against the seemingly inevitable roll of Russian tanks west into the Rhineland.
He assumed Armored Brigade Command as a Colonel in the late 1960's, was assigned to Vietnam as senior advisor with the 5th ARVIN division, then, in 1969 assumed command of the 11th Armored Cavalry, replacing George Patton III His aggressive leadership of the 11th is still remembered with awesome respect by his subordinates and his peers. For the second time, in his second war he heard the report that, "Jimmie Leach is the bravest man I ever knew."
Jimmie Leach led the Army's Armor Branch with skill and compassion in the early 1970's, managing the portfolios of some 6000 Army officers. Men like Gen Fred Franks and the current Secretary of the Department of Veterans Affairs, Gen Eric Shinseki, report that Jimmie was responsible for their very careers as he fought to keep these future General Officers in the Army although each had lost a limb to wounds in Vietnam.
His defense of one young officer earned him the enmity of Gen William Westmoreland and he was passed over for promotion as General Officer. His son describes the scene at his home, with great friend, Gen Creighton Abrams on hand offering support, but not interfering with this final decision, as a wake.
Jimmie Leach retired from the Army and worked for Teledyne for 13 years from 1972-1985. He kept his service to the Army paramount and carried out the legislative and financial work leading to the United States Armored Forces Monument near Arlington National Cemetery.
Jimmie Leach now lives in South Carolina where, over the last twenty-plus years he has supported the causes of soldiers and soldiering with unflagging zeal. He has visited the battlefields of France and the Ardennes more than ten times, placing monuments and memorials to the men who came there with him - and never came home. He has made peace with his enemies in Germany - and Vietnam and traveled through both South and North Vietnam to relook at the places and events there.
Jimmie works hard still to effect the expansion of the Beaufort National Cemetery in Beaufort, SC, a cemetery established under President Lincoln whose growth is threatened by neighborhood encroachment.
In 2006, Jimmie Leach spoke at the James H Leach ReadinessCenter, a new SC National Guard facility built with funds wrested from Congress through Jimmie's unremitting pressure on the late Sen. Strom Thurmond. He reminded the local Guardsmen, who were on their way to Afghanistan, that they continued a proud National Guard tradition of more than two centuries, to which he had been attached for nearly 70 years. And his message was clear: soldiers must train for war and never become complacent with the present situation.
Jimmie Leach and I have spent hundreds of hours recording his story. In September 2007 I was with him in the Galt Hotel in Louisville when a middle aged man approached me and said, "Is that Col. Leach?" I said yes and he said to Jimmie, "I want to thank you for saving my life in Vietnam."
Col. James H Leach died at 87 on Dec. 17, 2009. He was driving his car near his home in South Carolina when he suffered a heart attack. He was with us for 32031 days. Very few of them were wasted.
Matt Hermes
Copyright 2009 Matthew E Hermes
4
.
United States Army
(An excerpt from Tanker Jimmie Leach. In this brief segment Jimmie Leach describes his entry into the Regular Army, his graduation from High School as a Sergeant and the training for war.)
I
n September 1940, the 36th Infantry Division was activated. Jimmie Leach was entering his senior year in high school and was a buck sergeant now, and a tank commander. Mobilization was expected to take the rest of the year; the 36th would leave Houston in January 1941 just as soon as the tent city was complete at Ft. Benning, GA. The tank company drilled a couple of times a week now in anticipation of their departure in contrast to the monthly formations before activation.
"This created a dilemma, having dropped out of high school for a year because of the depression, I was now to graduate in the summer of 41 and here my unit was to go on active duty in January 41. So I went to my principal and my dean and I told them I was going to go with my unit when they were mobilized come hell or high water. And could you, by chance, set up a battery of tests for this dummy that would let him take this exam and let him come back on furlough and graduate with his class. And I did that." The 36th took off on the train for Ft. Benning. They moved into a tent city and joined other units, "Just like us," Jimmie said. Each company of their new Battalion had the same equipment– only 2 tanks and 2 trucks. The Battalion A Co. was from Forsythe, GA, B Co., Ozark, AL and D Co, Denver, CO. They represented the 31st, 32nd, 45th and Jimmie's 36th Infantry Div.
But Jimmie got back to graduate with his HS class and by that time he was a staff sergeant: platoon sergeant, tank commander in the United States Army. And he graduated in his uniform, likely the finest looking graduate in his class. "I came back – as a Staff Sergeant. Mobilized as a buck sergeant, came back as a Staff – it was a great honor. My furlough said, Purpose: To Graduate from High School," Jimmie said.
Jimmie's new unit, the 193rd Battalion (Light) took part in the Tennessee maneuvers of 1941. These peacetime maneuvers that crisscrossed rural Tennessee, North Carolina and Louisiana in 1940 and 1941 were established by Gen George C. Marshall to provide combat realism by combining large unit field training with camp and academic training. Senior commanders and staffs carried out the elements of combat. This was a laboratory on the grandest scale. New tactics, new organizations, new equipment – and new leaders emerged from the maneuvers. Gen George Patton was one of these. He spoke to his men:
"I want to bring to the attention of every officer here the professional significance which will attach to the success or failure of the 2d Armored Division in the Tennessee maneuvers. There are a large number of officers, some of them in high places in our country, who through lack of knowledge as to the capability of an armored division are opposed to them and who would prefer to see us organize a large number of old fashioned divisions about whose ability the officers in question have more information. It is my considered opinion that the creation of too many old type divisions will be distinctly detrimental and that the future of our country may well depend on the organization of a considerably large number of armored divisions than are at present visualized. Therefore it behooves everyone of us to do his uttermost to see that in these forthcoming maneuvers we are not only a success but such an outstanding success that there could be no possible doubt in the minds of anyone as to the effectiveness of the armored divisions. Bear this in mind every moment."
<![if !vml]>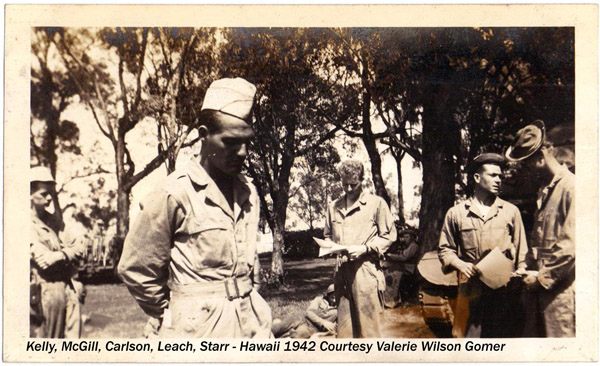 <![endif]>
http://www.jumpingfrog.com/images/photo-war/phot5180a.jpg
Jimmie Leach looks at the overturned light tank. "My M2A2 May West light tank hit a knee-high stump flipping us over on its side. I leaped out of the command turret, called up another tank to put a cable on us righting us rather quickly. After checking to see if I still had plenty of engine oil we continued on our exercise." Tennessee maneuvers taught tankers like Jimmie Leach not to run into stumps, saving them from the embarrassment of doing so under enemy fire. The 2d Armored sent a dedicated Captain to guide the National Guard Commanders in becoming battalion tankers instead of the single tank company they had been in Alabama, Georgia, Texas and Colorado.
The Japanese attacked Pearl Harbor on the 7th of Dec., 1941. The readiness, the training, the preparation for the unspoken thrill and horror of war was about to come to its inevitable fruition. Some men would survive, some would die. That was the only truth, the rest was a mystery. A snapshot of the United States Army on Pearl Harbor Day finds less than 2000,000 soldiers. The Army exists to defend the Nation and to protect its interests. We may forget in 21st century emphasis on foreign war that the Army must defend our homeland; in 1941 that included 3 million square miles of the continental United States, the Territories of Alaska and Hawaii along with Puerto Rico, Guam – and the Philippines. On that Sunday morning the Army was spread thinly off the shores of the continental United States. Small units were stationed in Bermuda, Iceland, Trinidad and Newfoundland. Coastal defense units sheltered the Panama Canal. Army regiments defended Kodiak, Juneau and Anchorage in Alaska. The Puerto Rico National Guard protected its home island. The Army defended Hawaii and Pearl Harbor but the events of that sunny Sunday morning indicated the mission of defense the Army shared with the Navy had failed. The important exception to the sparse population of overseas Army was The Philippine Islands. Gen MacArthur had more than 20,000 US Army troops along with nearly 12,000 Philippine men and women under his command. And one infantry regiment and four artillery regiments were at sea, heading for the disastrous campaign that would end with the decision in Washington that the Philippines could not be defended. Gen. Douglas McArthur left the islands in March 1942 and the bulk of the defeated Army, 10% of the Pearl Harbor Day Army headcount, died or was captured and remained at the mercy of the Japanese for more than three years.
After December 7, the 193rd Tank Battalion (Light) consisting of four National Guard Battalions was quickly assembled at Ft. Benning, destined for the Philippines. They were back about 24 hours from Tennessee maneuvers. Jimmie Leach relates they were tired as hell. The Captain said, "Park your vehicles, we'll wash them tomorrow." Well tomorrow was Sunday, December 7 and the men were sleeping in a little late and were awakened by the word of Pearl Harbor, wherever that was and they were at war whether we liked it or not. Within nine days the Battalion turned in its old light tanks with the machine guns only on them, turned them in to post ordinance at Ft. Benning and drew, 17 tanks per Company, about 70 tanks all together and these were the M-3 .37mm tanks with five machine guns, one on each sponson and one bow gun. "Readiness?" Jimmie said, "The Company that I was in, and all the Companies in that Battalion only had a few men that had ever ridden in an M-3 much less fired the gun or knew anything about the 37."
First Sergeant Hall had been to gunnery school at Ft. Knox. Staff Sergeant Leach had been to gunnery school at Ft. Knox. Corporal Kelley had been to gunnery school at Ft. Knox. "Six months earlier they are back with our old Mae West tank, running like hell for leather, but not very combat ready it seems. We turned those tanks into post ordnance and drew these new tanks. New to us, not new tanks, but new to us. `And we outfitted our Division and the 2nd Armored infantry troops loaded our tanks onto flatcars and chocked them down for us while we readied our personal equipment and we got on the train. Hell the tanks weren't identified yet by Company. Which tanks belonged to what Company. As quick as a tank was ready: new tracks, a new engine, new transmission, new road wheels, whatever it needed, the 2nd Armored drove it up on the damn train and chocked it down and we threw all the guns and equipment inside the tank."
They left Ft. Benning; the mission was to go to the Philippines. Readiness? The Battalion was far from ready. En route at Camp Polk in Louisiana they pulled into a siding and a new Lieutenant by the name of Bob McGill joined the battalion. "I'm new to this light tank business; I don't know anything about it. How long have you all had'em?" he asked. "Got 'em yesterday, sir." "Good God."
<![if !vml]>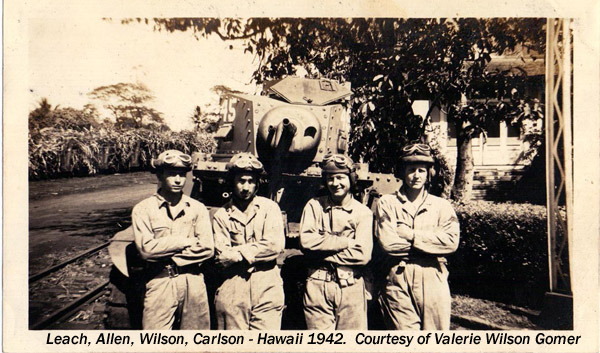 <![endif]>
"That's what we thought too," Jimmie Leach remembered in a talk he gave 65 years later to a group of Guardsmen headed for Afghanistan. "Three of us had to gone to Ft. Knox gunnery school and we had a PFC with us from a light tank unit of the 2nd Armored Division. So we buttonholed him and got the manual out and we were bouncing along the railroad on the way eventually to the Philippines and we brain-drained that guy as best we could to refresh our memory and then on the moving train, gong to San Francisco, across our country, the four of us went out and we got on a tank and we would open a breech and close a breech and assemble a breech and all the things you had to do. We did have ammunition. We had 37 mm rounds but we didn't have .30 cal rounds. Then a boxcar on our train. Each company had its own loading detail, hand cranked, one bullet at a time going into the damn web belt. A tedious job and they were loading all ball ammunition. No tracer. No shot. Just ball which was not acceptable in combat. That loading detail worked all the way across the country.
"Now, as we four people, mastered the tanks more or less, we took our crews, one at a time with each one of us trainers and we trained our soldiers en route to war. My God it was frightening to think of the potential of this."
They left San Francisco anticipating the long voyage to the Far East. "We now we had about 12 tanks on the top of the ship. On the top deck. The rest of them were in the hold. We manned the tanks. We shot at whitecaps in the waves. We had 37 mm shot; that's all we had. We fired the gun and a number of the tanks went into recoil but the barrel failed to return to battery because the gun shields – they had four bolts holding the gun shield on and they were slightly tapered – and when the gun came back the taper prevented it from coming back to battery. That minute taper prevented the gun from working properly.
"So if we had gone to war and landed in the Philippines in this condition we would have gotten one round off! That's all. God was with us. As we were on the Pacific heading for the Philippines, the US government wrote the Philippines off and diverted our convoy to a place called Oahu Territory of Hawaii. They diverted us in there and 30 days to the day we pulled into Pearl Harbor and the city and harbor of Honolulu and they marched us up to Schofield Barracks, and we put a tank Company at Mauna Loa Park, one at Barbers Point, one at Beluga Point and we patrolled the island with our light tanks. We found there though a tank Company with the Hawaiian Division. And they had the same tank we had had, the damn Mae West tank. And that's all Hawaii had. But we absorbed that unit and it kept their light tanks because we didn't have any replacements for our own.
"But now we had guns that wouldn't go back in battery. A number of them. Too many of them. So we had to pull the gun shields off. We didn't have any good square bolts to hold them. And we had to bore a bigger hole in the armor! Scraped them back and forth and eventually we were ready to go."
<![if !vml]>
<![endif]>

Five months into Hawaii, the Captain's striker, Mortimer Hirsch, came over and said to Jimmie Leach one Sunday afternoon, "The Captain is in his quarters and he wants to see you." Leach and Hirsch went to the Captain's quarters in Schofield Barracks. The tanks were parked in the quadrangle in front of the barracks yard but the people had gone home already. The Captain had a little nip on a Sunday afternoon and Jimmie said no thank you and the Captain said "God Damn it Sergeant, have a little drink," "Yes sir, thank you very much sir." So he did. They were talking about the platoon with 2nd Lt. Wayne Sikes and another officer but the second officer left the room for a few minutes "First thing I knew one of the Lieutenants there had disappeared and he came back with a blouse on his thumb and he said, 'Leach, stand up.' And I did. He handed me the blouse and said, 'Put this on'. It was a 2nd Lieutenants blouse. A dress uniform blouse. I put it on and looked in the mirror. It had 2nd Lt. bars on the shoulders and tank insignia on the lapels and I am looking at this 2nd Lt. uniform with Staff Sgt. Leach in it. And Earl Douglas, Captain Earl Douglas said, 'We're going to send you to Officer's Candidate School at Ft. Knox. You'll make a good officer and we want you to go. You earned it.' So I went back, ballooned, I was so taken by that. And so Jimmie Leach was ready to go to Ft. Knox," Jimmie said.

There was a problem. Jimmie Leach needed a birth certificate. The Army knew him as 22 year-old Jimmie Leach. But he was 20 and his name was James Herbert Shipps. "I wrote mom," Jimmie said. "I need a birth certificate, mom, but I need you to adjust it and make me two years older. She said, 'I can't do that because I wasn't married at the time you want the birth certificate to state. So you have to take it like it is.' I ran a notice in the Honolulu paper, any claims against James Herbert Shipps or James Herbert Leach, let it be known. No challenge. So I applied for the name change, to be officially Leach and Gov. Poindexter of the Territory of Hawaii signed off on the name change and my military record was back where it ought to be. The military never questioned my age, never."

(An excerpt of a work in progress)

6/12/09

Questions or comments: Contact Matt Hermes