Colonel James H. Leach -
"The sweetest man who ever lived,"
Marion Leach, 2007
Colonel James H. Leach was born in Houston, TX on April 7, 1922. He began US Army service when he joined the Texas National Guard on June 19, 1938 at the age of 16.
When Gen. Patton began his summer dash across France in 1944, Jimmie Leach was commander of Company B, 37th Tank Battalion, 4th Armored Division, serving under the legendary Lt. Col Creighton Abrams. He had trained for four years as a tanker. He was uniquely prepared.
Jimmie was wounded five times in Europe, received the Distinguished Service Cross for his heroism at Bigonville on Dec 24, 1944 and three days later he captured and guarded the entry of the 37th into Bastogne in relief of the 101st Airborne.
After WWII, Jimmie served in Korea on the island of Cheju, moderating the angry wrath among island natives, off-island Koreans and returning Koreans who had served in the hated Japanese Army.
He married Marion Heirs Floyd in 1951 and spent four years in Germany guarding the Fulda Pass against the seemingly inevitable roll of Russian tanks west into the Rhineland.
He assumed Armored Brigade Command as a Colonel in the late 1960's, was assigned to Vietnam as senior advisor with the 5th ARVIN division, then, in 1969 assumed command of the 11th Armored Cavalry, replacing George Patton III His aggressive leadership of the 11th is still remembered with awesome respect by his subordinates and his peers. For the second time, in his second war he heard the report that, "Jimmie Leach is the bravest man I ever knew."
Jimmie Leach led the Army's Armor Branch with skill and compassion in the early 1970's, managing the portfolios of some 6000 Army officers. Men like Gen Fred Franks and the current Secretary of the Department of Veterans Affairs, Gen Eric Shinseki, report that Jimmie was responsible for their very careers as he fought to keep these future General Officers in the Army although each had lost a limb to wounds in Vietnam.
His defense of one young officer earned him the enmity of Gen William Westmoreland and he was passed over for promotion as General Officer. His son describes the scene at his home, with great friend, Gen Creighton Abrams on hand offering support, but not interfering with this final decision, as a wake.
Jimmie Leach retired from the Army and worked for Teledyne for 13 years from 1972-1985. He kept his service to the Army paramount and carried out the legislative and financial work leading to the United States Armored Forces Monument near Arlington National Cemetery.
Jimmie Leach now lives in South Carolina where, over the last twenty-plus years he has supported the causes of soldiers and soldiering with unflagging zeal. He has visited the battlefields of France and the Ardennes more than ten times, placing monuments and memorials to the men who came there with him - and never came home. He has made peace with his enemies in Germany - and Vietnam and traveled through both South and North Vietnam to relook at the places and events there.
Jimmie works hard still to effect the expansion of the Beaufort National Cemetery in Beaufort, SC, a cemetery established under President Lincoln whose growth is threatened by neighborhood encroachment.
In 2006, Jimmie Leach spoke at the James H Leach ReadinessCenter, a new SC National Guard facility built with funds wrested from Congress through Jimmie's unremitting pressure on the late Sen. Strom Thurmond. He reminded the local Guardsmen, who were on their way to Afghanistan, that they continued a proud National Guard tradition of more than two centuries, to which he had been attached for nearly 70 years. And his message was clear: soldiers must train for war and never become complacent with the present situation.
Jimmie Leach and I have spent hundreds of hours recording his story. In September 2007 I was with him in the Galt Hotel in Louisville when a middle aged man approached me and said, "Is that Col. Leach?" I said yes and he said to Jimmie, "I want to thank you for saving my life in Vietnam."
Col. James H Leach died at 87 on Dec. 17, 2009. He was driving his car near his home in South Carolina when he suffered a heart attack. He was with us for 32031 days. Very few of them were wasted.
Matt Hermes
Copyright 2009 Matthew E Hermes
7. Breakout
(An excerpt from Tanker Jimmie Leach. In this segment Jimmie Leach describes the breakout from the Normandy salient to Brittany and across France to the gates of Lorraine..)
P
atton's Army was about to break loose on a breathtaking, five-week dash that would revolutionize tank warfare thinking and set the Germans on their heels – a setback that they would find difficult to reverse. The Armored would move on down the roads, a column miles long and thirty feet wide, stopping for nothing, firing constantly to the front and sides irrespective of enemy sightings. They would "tear through" infantry, artillery emplacements, horse drawn artillery and carriages and cavalry. They would fire and move on. They would overrun command and control. Lt Col Creighton Abrams' 37th Tank Battalion would be at the front of the column most of the time. Fire constantly, do not stop for prisoners, destroy the enemy en passe but do not stop. The result was startling. The enemy seemed at first not to understand the long column of tankers passing them by; soon their puzzlement changed to fear as they realized they were now bypassed, they were behind the lines, behind these energetic fast-moving forces. They were isolated from their main forces by these powerful, determined Americans. After these five weeks Col Bruce Clarke, CCA Commander told his officers this had been a "new type of warfare", consisting of hitting the enemy hard and applying continual pressure, never letting him rest or reorganize. They began to call it exploitation.
On July 27th the 37th Tank Battalion was at Raffonville, no more than 12 miles from its landing at Utah Beach. But on the 29th they moved more than 20 miles to an assembly area east of Coutance. The next day, 20 miles to Folligny. On July 31st 26 miles through heavy fighting to Ducey. The trains of supplies had to catch up with the battalion on the morning of August 1 but by 10:30 the Battalion was on the road through German held France to encamp the night of August 1 10 miles north of Rennes. Thirty miles on Aug 1, 96 miles in four days.
"First of all we broke through . . . and CCB led off with the 8th Tank Battalion and I think the 51st Armored Infantry Regiment and we followed and we went through Coutance and Avranches but before we got to Avranches the Germans had infiltrated our column and had shot up our maintenance trucks and there were a number of them in the ditches and there were a number of fatalities I am sure. But we came along and the Germans had withdrawn but the trucks were still burning in the ditches. And when we got to Coutance. Col Lou Storck was killed, full colonel, deputy CO, he had been in the 37th at Pine Camp, they gave him the 51st Armored Infantry Regiment. As we got near the narrow gap at Avranches we came up on the rear end of the 8th TB and there were 5 tanks of the 8th on low ground and there were German tanks on high ground and the Germans had knocked these 5 out and they were burning but the Germans had withdrawn and we went through.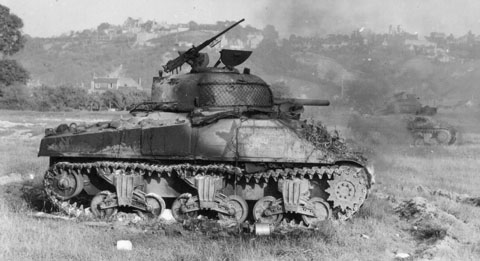 Destroyed 8th Tank Battalion Tanks Near Avranches. Signal Corps photo July 31, 1944.
Photo from the collection of Dan Fong [afvphoto@hotmail.com]

I then led the attack into Ducey and I teamed up there with the 10th Armored Infantry Battalion(AIB) and Sgt Cobilla and Lt Bohn were the first two tanks knocked out. Cobilla was hit by a Panzerfaust and Bohn got hit by an antitank shell and the shell came right through the front of the tank and went between the legs of Porter his driver, slightly wounding him and no one was killed in his tank. The shell lodged in the back and didn't hit the ammunition. And it hit the engine and the tank was disabled. But Bohn and his gunner were the best gunners in the Company. We went on through Avranches and in the hedgerows, and I have a busted muscle right here. Those damn hatches just flipped over and about cut that muscle in half. So they called me and told me lead on into Ducey and I said I've been injured and called Fitzpatrick, you take over and he had caught his hand in the recoil and was bandaging it up so I called Sgt Morphew and he didn't have a receiver – we had three receivers and two talkers, he acknowledged my message and I told him to lead off into Ducey and we did recon by fire into the hedgerows and that prevented any bazooka guys from getting to us. The bow gun would shoot in one direction, the coax in the other. Not aiming at a target, recon by fire. So I recover and I call Morphew to pull over. Morphew wouldn't pull over. He was a very courageous guy. Couldn't talk to me but he could fight. So we got on into the town there and that was the night that Cpl Wenrich was killed. He personally had painted all the insignia on the tanks, a Pennsylvania boy (and my driver Ken Jeffries married his widow). That night in Ducey, he was on guard and a motorcycle came up and he challenged the motorcycle and the cycle answered by fire and cut Wenrich down with a Schmeiser machine gun. And the next morning Tbore Wright, Fitzpatrick's driver was dead. A damn grease gun was dangerous, if you had the bolt back, it would load and fire, pow. Well, unfortunately, he had his own gun strapped on him and it fired and killed him. Hit him in the head. Killed him. Lost two men. Third man killed at that point, too.

"Sgt Cobilla had a tank named Beer Belly, he had a beer belly and ran the beer concession. Drank as much as he sold. Bill Bohn's platoon tanks were named Beer Barrel, Blatz, Budweiser, Boilermaker – he had five different drinks. Cobilla was knocked out with a Panzerfaust. Cobilla did not get hurt, he was with us the rest of the war. Cobilla had a loader, Simo who killed himself. We were not supposed to pick up any spent munitions and he picked up a shell and it exploded in his hands and killed him. He was not a very smart guy anyway, we had warned him don't pick up souvenir ammunition, leave it alone. He did it anyway and it blew him up. So I had Wright and Simo kill themselves, accidentally."

The Battalion stayed in their assembly area on August 2 and moved out to bypass Rennes and reach Bain de Bretagne.

On the move at 9AM on August 3 and after 29 miles at the destination at 4:45PM. But just for an hour. The 37th doubled back to the northeast traveling 15 miles to Amnalis for the night.

"Then I am attached at Ducey to the 10th AIB and they were a good outfit and we push off to Rennes. They put a blowtorch to my ass to make me move, the 53rd, we had to drag their ass. When we got to Rennes there were a couple of mounds over here on the side and a couple of barracks at the base of those mounds. This is what you call exploitation and pursuit, occasionally you would run into the enemy but you were not supposed to engage the enemy at the side, shoot at them but keep rolling. So we were rolling by and I am shooting at these soldiers who are running from the barracks to these mounds. Well those mounds were 88 AA emplacements, real ones, both of them. Now, I am shooting at them and I pressed on because I was the advance and we pressed on and I was the platoon leader still, Tiegs was the commander and we got into the hedgerows at Rennes here and our column was along the road behind and these 88's were shooting at the column along the road, psh, psh. Later on, after the war, a German Sgt who was there communicated with me. I remember this mortar platoon leader of the 10th and he shimmied up a tree so he could bring mortar fire to bear and while he was up in the tree the Germans shot the tree away under him and he fell to the ground. We've kidded him a long time. Ultimately the 35th Armor took over and neutralized them."

Now it is hard to fully comprehend the understated 37th Tank Battalion diary for Aug 5. After a day of rest;
"The Battalion was alerted for movement in the direction of Vannes-L'Orient at 0914. ... The Battalion moved down to the junction of the Janze - Bain de Betagne roads . The Battalion commander joined the Battalion there and the Battalion cleared this junction at 1445, passed through Messac at 1550, Guipy at 1600, Glacilly at 1645. The bridge at St Martin was discovered to have been destroyed and it was necessary to have the Engineers repair it before proceeding at 1845. The Battalion passed through Graven at 1855. The head of the column met with small arms fire outside of St Graven but this resistance was speedily reduced.

The Battalion Commander at the head of the light tank Company entered Vannes at 2010. The town's people were delirious with joy. Soldiers in the tanks and in the peeps were showered with flowers, wine and kisses. It soon became impossible to drive a vehicle through the streets."
The Battalion had now reached across Brittany to the Mediterranean. This column of armor and artillery and infantry had traveled this day more than 70 miles from Amnalis to an assembly near Vannes. More than 200 road miles for the Shermans in a week.
"In Brittany on the way to Lorient, that's when Peck was killed, by Gagliardi. Dr Scotti, was an Italian like Gagliardi and a good man came up to me and said you are going to have two casualties here, calm down. And I said the wrong man got killed. 'Jimmie don't say that.' Well godamn it sir, he killed a good man and he is a worthless soldier. Well, we evacuated him as a mental casualty and I never saw him again and Peck was a good soldier. See, most of my guys were older than me because they were the first draftees. And when that first year was up, a lot of them got out but when the war started out they brought them back in. Peck was in his late 30's. Sgt Grim was 42. These guys were all older than I. At night they would always want to know, 'Where's the Old Man's tank?' Well, I'm over here (high pitched, child's voice). I was 22. Most of my soldiers were older than I but I had the experience, 2 years in the Division, three years in the Guard before that, all of it in tanks.
"So we went through Brittany toward Lorient but we didn't get to the edge because unlike Singapore where the Brits didn't have their guns pointed inland, the Germans set their AA and antitank and they were shooting at us. So Soiuxsavage, Assault Gun Platoon Leader was killed near here by a grenade, looking over a map with one of his sergeants. They lobbed a grenade over and killed him. OCS classmate. Lost him, Wenrich, Wright, Peck. We got down here, these shells sounded like a boxcar going through the air. Caused a lot of pucker factor. I picked up a volunteer Frenchman – wooden shoes he had on – as a translator, put him in my tank, as far as I know we didn't have any problem there but Combat Command B (CCB) got there first and the Germans knocked the hell out of them with Artillery. I was in CCA.
On August 14th the 37th headed east and by the evening of August 16th it was bivouaced south of Vendome, more than 200 miles to the east - 70 miles a day for three days. More than 400 miles in two weeks. After changing out engines and tracks on the 17th, the unit moved 60 miles to La Loupe on August 18th. The 37th was beginning to break down from the pace now. The Division was unable to supply needed engines and tracks on August 19th and 20th the 37th struggled to get to Binas, 50 miles to the north with, as the Battalion Diary reads, the "failure of several tanks due to the breakage worn tracks and the last gasps of dying engines." The odometer for the breakout was above 500 miles through German held territory. The Battalion was held in reserve for four days as tankers struggled to change engines and tracks. The paymaster arrived! On August 25th the restored Battalion made its longest march - 12 hours and more than 125 miles, across the Seine, to a bivouac near Villeneuve L'Archequeque. On the 26th they awaited an expected move out of CCR to CCA.
Near Orleans, "We got the word to come back and task force Bautz was formed, he was our S3. He had our Co B of the 37th, an Engineering Co, Assault Guns, so we were his forces and we were to blow any bridges along the Loire River because the 7th Army wanted to go east along the north side of the River and the German 3rd Army was south of the Loire. So we got there and the bridges were already blown. We got there and we were behind a levee and you couldn't see us on our side but on the other side, a front road ran right along the edge of the water. Our road was on the berm but we were down behind it. All night long we could hear activity, horses snorting, vehicles moving, tracks, soldiers talking. As dawn came Bautz had us deploy along the berm, halftracks and tanks. And we fired across the river, cut the column on both ends and they couldn't go back away from the river because there was a steep precipice. We just chopped them up badly.
"In the Lorient area the damn hatches had fallen on Tiegs hands and he was out and I now had the Company. (Once again, he rejoined us later and Abrams gave him C Company)", Jimmie said.
Now Lt. Leach reported directly to Lt. Col. Abrams. Abrams was everywhere ands knew everything. He exhorted Jimmie to give more than 100%. Jimmie couldn't guarantee that. All the tanks weren't the same, they were wearing out, tracks were beginning to break loose on them. Jimmie said, "100%. God Dammit, I can't give you 100%. What's your minimum requirement?" "Then give me what you can," Abrams said. "I need all of them the same." "God damn it I told you I cant get you all of them." Abrams was shaving out of his helmet. He threatened me with relief. If you don't get that GD Company under control, I will put somebody in there that can handle it. "I can handle it sir." Well show me you can handle it. "Yes sir." It was in Lorient where Gagliardi killed Peck. And when that happened, Abrams sent for Jimmie. "Next God damned guy that accidentally fires a round or purposely fires a round, in the area I'm going to have him take the god damned tank and lead the reconnaissance on the attack," Abrams said. "So he threatened to make the guy point man. So I got my Company together and said, 'Look, I may be a short timer from the looks of things, unless you guys
don't buck up and stop firing rounds accidentally.'
"
We came across a Model B Ford and all kind of food and cheese and wine. We had 6-8 bottles/tank. He allowed us to have that. So I allowed my soldiers to drink. Now I used to walk the line in the evening and the soldiers would say have a drink. I was a kid and they were razzing me. I got new tracks and we went through Orleans . Then we continued on with no fighting until I was headed to Chancenay and St Dizier."
By August 28th, one month since the breakout, the 37th was another 100 miles into France. They had now nearly 750 miles, keeping the Loire River to their south most of the way and keeping the Germans at bay, and had far outpaced the Allied troops on the north whose arc of conquest was shorter and who not had the excursion into Brittany.
On August 30, Jimmie reports,
"We approached into the town of St Dizier there was a stream; they had a couple of antitank guns; these two antitank guns fired and skipped up into the assault guns and killed some men. As the tanks deployed in the fields, the 53rd complained as the tanks went into the field to increase the fire. Jacques got bogged down in the woods but shot up the airfield. He told me to come through the woods and seize Chancenay and here's where Mixon's tank was hit and killed Leonard Blume and Arthur Connelly, the bow gunner and the driver. On September 17th, 2009, Jimmie Leach and I stood at the small monument in Chancenay that honors Blume and Connelly. He pointed up the road and said, "We came out of that apple orchard, down that hill and there was a German antitank gun poised at the corner of the first building in town. He fired once and killed the two men. The round hit the two men and stopped. The rest of the crew survived. Mixon, Williams, and the loader."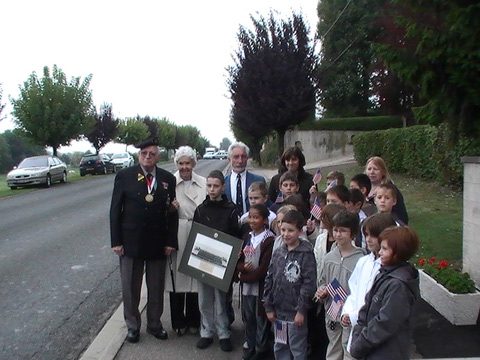 65 Years Later
Chancenay Sept 17, 2009. Looking toward the orchard on the right where Jimmie Leach's tanks entered the road on Aug 30, 1944. Jimmie Leach on left.
Jimmie Leach was in Chancenay, as he has been periodically for decades, to honor the townspeople and the soldiers. He has a love affair with them both. Jimmie said what was significant in the action that he took the town with no infantry, he ordered his tank gunners out to at as foot soldiers. "They all rode back to St. Dizier on the back of the tanks. The Germans could have run off but they did not. I captured about 30 Germans and liberated about 30 POWS and I had a whole slew of guys, POW's all on my tanks and they could have gone and run off and I couldn't have done anything about it but they decided to stay on there. Carried them back into St. Dizier. Turned them over, the liberated men and the POWs. The infantry had to detail their soldiers to take care of the POW's.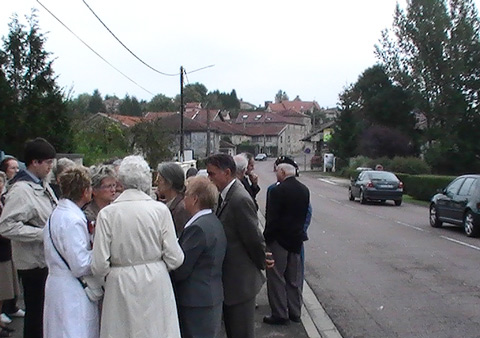 Chancenay Sept 17, 2009. Looking

down to the town from which the German antitank gun killed soldiers Blume
and Connelly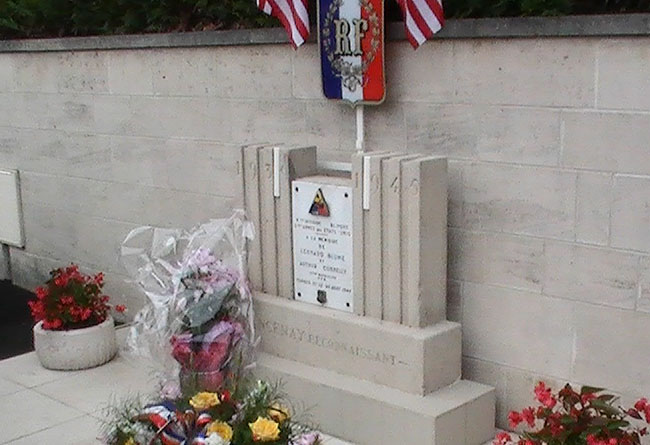 Chancenay, Sept 17, 20009 Memorial to US Army soldiers Leonard Blume and Arthur Connelly set near the spot where they were killed.


Chancenay, Sept 17, 2009. Col. Leach honors his men who were lost at Chancenay at the memorial. Hear his talk to the townspeople of Chancenay

I rejoined them and went to Commercy, still attached to 53AIB. A and C of 37th were with Abrams. It was a rear area for the Germans and these guys were on vacation back here. And they were promenading down the street with their girlfriends and we scattered them and shot up their trains. And as we went into Chancenay, there was a hill, Ft Geronville, but from up there you could see the railroad track and we fired down on the tank cars there and it looked like an atomic bomb, huge fireball, smoke, They gave me a bronze star for Chancenay. Then at Commercy we were told to top off our tanks and we were denied so our tanks are half empty because gasoline was going to Montgomery. So the idea is do you go forward and end up empty further down, or wait. Decision. Wait. One of their liaison planes spotted us and brought artillery down on us. Abrams was asked what is your situation, now he was very theatrical at times and he said, 'Well I am glad you asked that question, in the last ten minutes, no less than 300 god damned artillery shells have fallen in our area and otherwise its quiet enough that my 5 year old son could play out beside our tanks.' All hell was breaking loose.

"And we stayed there for a week but I got German gas and Abrams was furious with me that the German gas would foul our tank engines because of the inferior fuel. Only my tank crapped out. I used to commiserate with Ken Lamison that Abrams was always chewing me out. I wasn't so sure he wouldn't relieve me. But I don't think in retrospect he would have done so," Jimmie said.

"But Bautz told me that Abrams said, well I think he has it under control now. Abrams was a dynamic commander."

(An excerpt of a work in progress)

8/31/09

Questions or comments: Contact Matt Hermes